She walked in the door, slipped off her shoes and dropped her bags callously. She needed to strip off the burdens of the day and immerse herself in the heat of a bath. She would linger there for as long as she wished, eyes closed, focusing on every journey of the water drops that rolled off her golden skin.

The faucet was leaking again, but the repetition played a soothing tune and caused a rippled art wave at her toes. With her hands by her side she pretends she is flying, slowly making waves that massage her whole body as her mind wanders and her imagination blossoms into a wondrous art piece.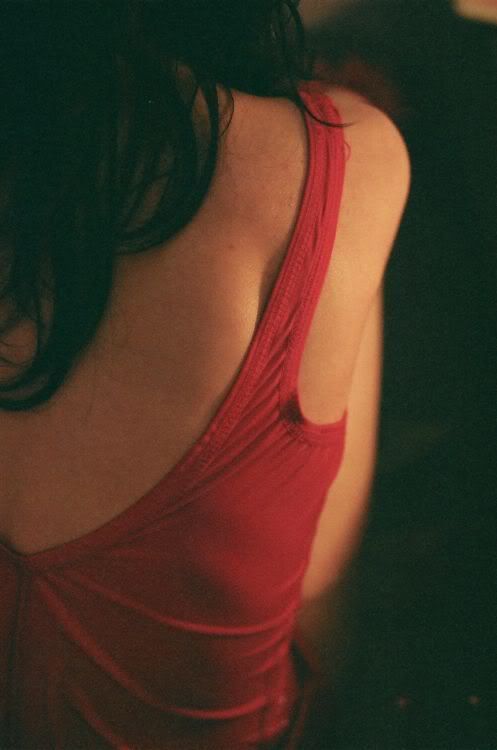 As he walks by the crack in the door, he catches a glimpse of her. Quietly standing, he finds himself immersed in the beauty of his lover. Breathless, he waits, wondering where she is and if he is there with her, longing to taste her.
She doesn't let on that she is aware of his presence. It excites her when he looks at her that way. There have been too many nights gone by without a breath on tender skin. She lingers, lifting her hand up to brush the hair out of her face. Watching the drips from her arm land squarely on her hardened nipples, arouses him. He is not sure how long he can stand restrained.
She slips her hand down her chest and finds quivering thighs, he knows he must remain still. Slowly, she arches as she dives deep into her territory, stifling a moan and biting her lip hard as the water crashes on the side of it's porcelain pool. Deeper and stronger she moves as she brushes her breasts, stopping at each one and teasing readied nipples. Slowly and hardened, she pushes down in just the right place until she explodes out of the water, laughing at the strength of her release.
She combs her hair back with shaking hands and touches her bottom lip, wiping the blood away from a passioned bite. Leaning towards the tub wall, she rests her head on her arm and looks to an empty doorway. Perhaps someday her reality will be inhabited by a lover and her pleasure shared. She will make this journey alone until he is found. She falls back into the now chilly water, smiling and wondering where she will travel next.